The 2000 AGM
The Well Hill Residents Association Annual General Meeting was held at The Red Deer (Lullingstone Park) on Tuesday 11th April 2000.
Before the meeting started, photographs were taken of the outgoing committee and of all attendees.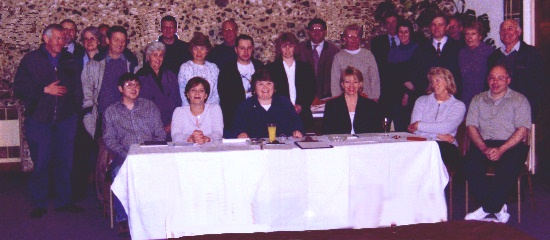 Back Row
Left of Table
Pat Brennan - David Rea - Val Rea - Julian Faubert - David Lifton
Behind Table
Joy Lifton - Gary Stewart - Sue Pickering - Mike Peek - Garry Humphris - Jeannie Clapson - John Olney - Maria Olney
Right of table
Colin Dibsdall1 - Barbara Hobson - Mike Donovan - John Bovington2 - Margaret Stiles - Joe Gregory
1 Sevenoaks District Councilor for Crockenhill which covers part of the Well Hill area.
2 Sevenoaks District Councilor for Shoreham which covers most of the Well Hill area.
From Row - the outgoing 1999/2000 committee
Phil Hobson1 - Jane Cramp2 - Chris Gregory3 - Shelley Coomber4 - June Dean5 - Sam Saunders4
Notes
Gerry Costa, the Minutes Secretary, was unable to attend the AGM.
1 Treasurer
2 Correspondence Secretary
3 Chairperson and Planning Secretary
4 Social Secretaries
5 Neighbourhood Watch