Road Closures

Well Hill (near Daltons Road) and Rock Hill will be closed for road works.
Advance warning boards will be going out on 21st January. Unfortunately exact dates are not possible due to weather and breakdowns or machinery etc. The contractors, Ringways, are looking to start around 30th January. It is hoped the road works will only take a couple of days.
Information Known
Sevenoaks District Council's Highways Unit (SDC-HU) are carrying out work in the Well Hill area on behalf of Kent County Council. The work will require the closure of Rock Hill and Well Hill by Daltons Road. They were going to do the work in November 2001. When they admitted that no advance warning would be given the Residents' Association with the help of Sevenoaks's District Councillors John Bovington and Colin Dibsdall, and Shoreham Parish Councillor Sheila Nash persuaded SDC-HU to postpone the road works until they had given local residents and through traffic ample warnings.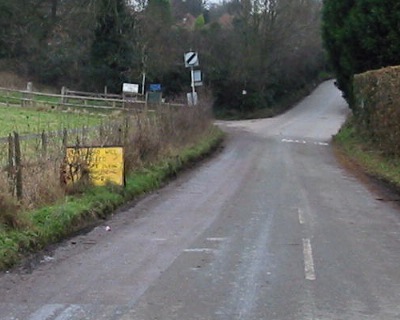 Communication - a skill unknown to SDC-HU?
The warning boards are now out but do they inform? We think not! Take a trip through our lanes and see what you think.
Hide it Under a Bushell
On the road from Chelsfield there is a warning board. The board, being bright yellow is clear to see, but can you read what it says? Even standing 2 metres away - about the closest you could get if you stopped the car and viewed it from the passanger seat - you would need Superman's x-ray vision to see through the hedge. Even then it would be difficult as this sign is hand written using a marker pen. Never mind, you can always telephone the SDC-HU to find out what it says.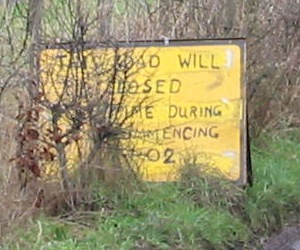 No you cannot as this sign does not have any contact number. If you want to contact SDC-HU try 01732 227000 and ask for the Highways Unit.
Make it Invisible
If you follow the signs to Lullingstone Golf Course you will travel Well Hill (that's the name of the road as well as our village) you will not see any signs to indicate that Well Hill will also be closed at the golf course end. Never mind, turn your car round at Daltons Road and lets do the return trip.

At least the Daltons Road warning sign is readable!