Road Closures (Cont)

Communication - a skill unknown to SDC-HU? (Cont)
Good Position - Shame about the info
On the road back to Well Hill village, by Daltons Road there is a sign.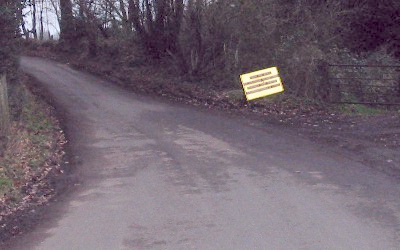 The board can be seen but its a shame the information is so vague. This road will be closed sometime.... Not much fun if you only use the road once a week. And still no telephone number for SDC-HU (it's 01732 227000). What will be the diversion when the road is closed? We don't know - ask SDC-HU (01732 227000) - they might know - but then again, the information may be covered by the Official Sercret's Act!
More invisible signs
On the way back to Rock Hill - a road that will be closed - there are no information boards to warn you!
A sign of all roads
We did find another sign. This is at the junction of Well Hill and Rock Hill. We are not sure if it refers to Rock Hill or Well Hill. At least most of it is readable. The date is 2?/01/02 which we assume to be 28/01/02. We do hope that you don't have to make a 5 mile detour when the roads are closed. That's the problem of rural roads - there are few, if any, convenient alternatives.