Well Hill Residents' Association
This is the official web site of the Well Hill Residents' Association (WHRA).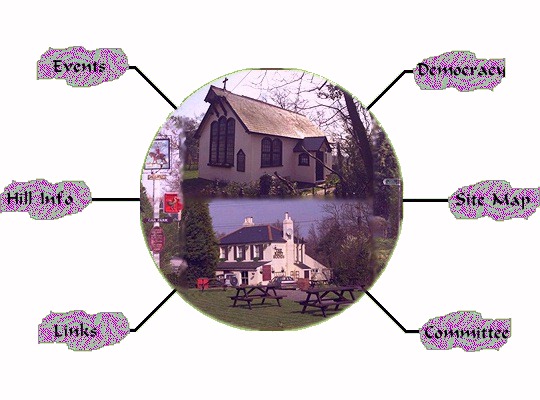 Results of the Questionnaire are available.
Membership of the Residents' Association was raised to £5 annually at the 2001 AGM.
Add yourself to our E-mail List.
Local 5 day weather forecast from the BBC
News
2014-07-13 7th Annual Well Hill Musical Concert

Well Hill Mission Church on Sunday 13th July. The very popular Annual Classical Concert will be performed by The Thames Gateway Quartet. Weather permitting it will be held in the lovely church gardens. The tickets are priced at £6 and includes delicious tea and cakes. All profits will go towards the Mission Church. Please contact the following for tickets

| | |
| --- | --- |
| Carol and Chris Courtney | 01959 535022 |
| Wendy and Norman McDonnell | 01959 534310 |
| Julia and Terry Sparkes | 01689 823749 |
| Vera and Gerry Walker | 01689 606738 |

Book early to save dissapointment



2014-06-07 Church Fete

Saturday 7th June at the Rectory, Skibbs Lane. 12 noon to 4.30 pm



2014-04-27 Spring In Bloom competition

Green-fingered gardeners are being encouraged to take part in Sevenoaks District's first ever "In Bloom Competition". Sevenoaks District Council has teamed up with Coolings Nurseries in Knockholt to launch the free-to-enter competition. In fact everyone who takes part will be given a £5 voucher to spend at Coolings. The competition is open to both novice and expert gardeners with large or small gardens, allotments or even a just window box or pot showing how they are helping to make the Sevenoaks District an even greener place to live. Competitors should enter by Friday 20 June with judging taking place in July and August. Coolings Nurseries vouchers will be presented to the winners. News and updates on the competition can be found at the following link:

For more information see http://www.sevenoaks.gov.uk/inbloom



2014-04-23 Shoreham Annual Parish Meeting

You are invited as an ELECTOR of SHOREHAM Parish to attend the Annual Parish Meeting on Wednesday 23 April 2014 at 7:30pm. Shoreham Village Hall.

For more information see http://www.whra.org.uk/archives/2014_Annual_Parish_Meeting_Agenda_Final.pdf



2014-04-21 Easters Refuse Collection Dates

The Monday refuse collection on 21st April will be collected one day later than usual on Tuesday 22nd April.

For more information see http://www.sevenoaks.gov.uk/refuse



2014-04-18 Easters Refuse Collection Dates

The Friday refuse collection on 18th April will be collected one day later than usual on Saturday 19th April.

For more information see http://www.sevenoaks.gov.uk/refuse



2014-04-16 AGM

The Well Hill Residents' Association AGM will be held at The Mission Church from 7:30pm. Guest speakers include Roger Gough from Kent County Council and a representative from Kent Police.



2014-04-14 Easter "eggstravaganza" family fun days

During the Easter school holidays parents and children can take advantage of free, "Family Fun Days" throughout the District. Organised by Sevenoaks District Council, four fun days will take place giving children and young people the chance to try out Easter themed craft making, face painting, games, sport and more in a friendly, safe environment. No booking is required for these free events, families can simply turn up and enjoy what's on offer! Children must be supervised by a parent or carer at all times. The nearest Family Fun days will be held on Monday 14 April, 10am to 2pm, Otford Recreation Ground.



2014-04-12 Free Saturday Refuse Collection

Kent Hounds car park (by the Well Hill recycling area) from 11:15pm to 12:00pm. Get rid of those large rubbish items, when the dust-cart comes to Well Hill, without having to travel to the amenity dump. The dates are easy to remember - they are the third Saturday every three months (Jan, Apr, Jul ,Oct)

For more information see http://www.whra.org.uk/saturday_refuse_collection.htm



2014-04-11 Burglary to shed

Between 09:00 and 11:20 on Friday 11th of April, a shed at the rear of a property in Skeet Hill Lane was broken into and a strimmer, blower and generator taken. If you saw anything suspicious, contact Kent Police on 101 quoting Crime Report No. YY/007155/14



2014-03-29 The Big Cheese Making Kits

New in at The Hop Farm are Cheese-Making Kits - a great idea to try at home, giving you freshly made cheese whenever you want it. Choose from Mozzarella and Ricotta, Goat's Cheese or Scottish Crowdie. Each kit makes 10 batches and they have a long shelf life. Just add milk!

For more information see http://www.hopshop.co.uk


Also see Old News
Air Your Views
Do you want to air your views? Try the Well Hill Electronic Message Board.
Are You Informed?
Did you know that the Shoreham Parish Council, Crockenhill Parish Council, Sevenoaks District Council and Kent County Council all issue newsletters and magazines to keep us informed? If you don't receive these publications, please let us know. After all, we pay our taxes just like those that do get these magazines.