Well Hill Residents' Association
This is the official web site of the Well Hill Residents' Association (WHRA).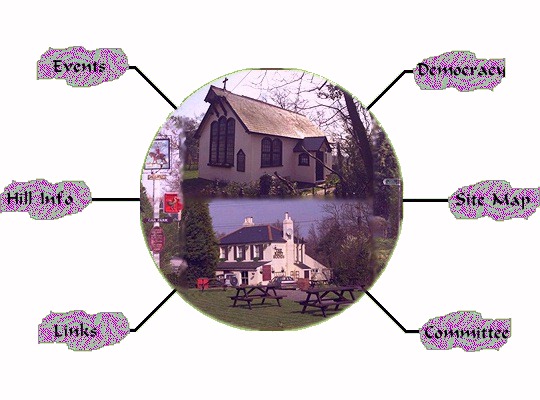 Results of the Questionnaire are available.
Membership of the Residents' Association was raised to £5 annually at the 2001 AGM.
Add yourself to our E-mail List.
Local 5 day weather forecast from the BBC
News
2015-09-25 Macmillan Coffee Morning

As part of the Worlds Biggest Coffee Morning in support of Macmillan, please come along to The Bo Peep on Friday 25th September 2015 From 10:00am - bring your friends, everyone is welcome

For more information see http://www.thebopeep.com/macmillan-coffee-morning



2015-09-20 Classic Car Show

Tripes Farm, Chelsfield Lane, BR6 7RS Sunday, 20 September, 2015 - 11:00 to 16:00 To raise funds for St Christophers Hospice. The third hospice fundraising car show featuring over 400 classic, interesting and modified vehicles, plus arena shows, kids' activities, stalls, bar, BBQ and entertainment for all ages. Public entrance £5 per person including programme, Families £15 and Under 12s free, with plenty of free public car parking. (Public tickets not sold in advance - just show up on the day!). For more information email carshow@stchristophers.org.uk or call the Fundraising Team on 01689 825755

For more information see http://www.stchristophers.org.uk/carshow



2015-09-20 Rolls Royce Car Rally

Sunday 20th September 12pm -5pm This year's annual gathering by the Rolls Royce Enthusiasts Club (South East section) will take place on Sunday 20th September at Lullingstone Castle. Around 30 classic Rolls Royce cars will adorn the main lawn, time to admire the cars and meet their proud owners. Visitors will also have the opportunity to watch the Eynsford, Farningham and Lullingstone Croquet Final and see Guy Hart Dyke present the cup to the winners

For more information see http://www.lullingstonecastle.co.uk/component/content/article/340



2015-09-13 Plant, Craft and Wildlife Fair

Sunday 13th September 11am - 5pm Enjoy shopping in Lullingstone Castles's historic grounds and at your leisure browse a choice of local crafts, jewellery, fresh produce and plant stalls. West Kent Badger Group will also be on hand to share their conservation work with visitors. There will also be showcasing a host of floral delights from local growers and their very own specialist nursery.

For more information see http://www.lullingstonecastle.co.uk/component/content/article/331



2015-09-12 Saving Our Bumblebees

Ruxley Beekeepers present a talk by Professor Dave Goulson on Saturday 12th September 2015 at Orpington Village Hall 311 High St, Orpington BR6 0NN starting at 3pm. See the link for booking details.

For more information see http://www.whra.org.uk/archives/2105-Bumblebee-talk.htm



2015-09-12 CHELSFIELD AND WELL HILL DISTRICT PRODUCE SHOW

Saturday 12th September at Chelsfield Village Hall. Setup is from 9:30am and viewing from 2pm. The schedule and rules are available online at http://www.whra.org.uk/produce-show/produce_show_2015.pdf Additional schedules and enquiries from Catherine 01689 831826 or Chris 01959 535022

For more information see http://www.whra.org.uk/produce-show/schedule-2015.htm



2015-09-12 Crockenhill Harvest Fayre, Craft and Produce Show

Saturday 12th September from 12 noon. There will be a beer tent, BBQ and Music with Warren Street Six Jazz Band. Auction at 3pm and dog show at 4.30pm



2015-09-11 Apple Season at Castle Farm

The ORCHARDS are opening for P.Y.O. on FRIDAY 11th SEPTEMBER 10am - 5pm and thereafter on Fridays, Saturdays and Sundays until mid October (closing date TBC). Norfolk Royal apples are ready for picking. Cox apples tend to ripen about a week later than the Norfolk Royals but store well if picked early. You can also buy ready-picked local Bramley apples, pears, sweetcorn and Kent cobnuts from the orchard hut and in The Hop Shop. Please note, on days when the weather is wet and the ground conditions unsuitable for parking, we may decide to close the orchard and only have apples available at the shop. If in doubt, phone to check - 01959 523219.

For more information see http://hopshop.co.uk/



2015-09-06 Group Dog Training Classes

Chelsfield Village Green 10.00-11.00am Contact Julie 07717 606506 oldfieldjulie@aol.com IMDT Qualified


Also see Old News
Air Your Views
Do you want to air your views? Try the Well Hill Electronic Message Board.
Are You Informed?
Did you know that the Shoreham Parish Council, Crockenhill Parish Council, Sevenoaks District Council and Kent County Council all issue newsletters and magazines to keep us informed? If you don't receive these publications, please let us know. After all, we pay our taxes just like those that do get these magazines.