Well Hill Residents' Association
This is the official web site of the Well Hill Residents' Association (WHRA).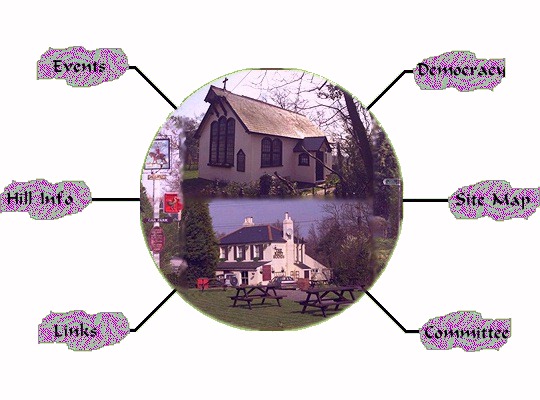 Results of the Questionnaire are available.
Membership of the Residents' Association was raised to £5 annually at the 2001 AGM.
Add yourself to our E-mail List.
Local 5 day weather forecast from the BBC
News
2020-07-11 Chelsfield Village Fair

Gates open at noon. Music until 6:30pm. The Fair this year is on Saturday 11th July 2016 - gates open at 12 noon and it takes place on Chelsfield Cricket Green BR6 7RN. 2019 prices : Adults £3.50 and children under-14 FREE. Includes free programme. Expect Flying Displays, Birds of Prey, Croydon Steel Orchestra, Beer Tent, Hog Roast, Miniature Railway, Fun Fair and more than 70 stalls. It is raising funds for local good causes.

For more information see http://chelsfieldfair.com/



2020-07-05 Music and Cream Tea at Well Hill Mission Church

On Sunday 7th July from 2:45 pm there will be music and a cream team - Al Fresco if the weather is fine. Music from Helen and Dave Griffiths - known as Burntwood.



2020-02-10 RESIDENTS' MEETING to discus planning application for 8 new houses

RESIDENTS' MEETING MONDAY, 10TH FEB at 7.30pm at WELL HILL CHURCH A planning application (SE/20/00020/FUL) has recently been submitted to Sevenoaks District Council for 8 houses and an office unit to be built at Westwood Cottage, where currently there are a number of workshops. Shoreham Parish Council would like to canvass the views of residents before submitting their comments. They are hoping to get a Planning Enforcement Officer to attend the meeting. Please note that the deadline for comments on the Westwood Cottage application is 11th February - ie the day after the meeting. The Parish Council will ensure their comments are submitted immediately after the meeting in order to meet the deadline. All residents who wish to make comments themselves should submit them directly to Sevenoaks District Council via the Planning Portal online or by post. The plans and comments can be seen at https://pa.sevenoaks.gov.uk/online-applications/ - use 20/00020 as the "keyword, reference number". Comments should preferably be submitted before the meeting in order to ensure that they are received before the deadline. The meeting will also discuss the other local planning issues, including Drummers Field and Little Trees. To find the Well Hill [Mission] Church, go to https://www.achurchnearyou.com/search/?lat=51.354542&lon=0.146334&place=Well+Hill%2C+Orpington+BR6+7PJ%2C+UK&text=

For more information see https://pa.sevenoaks.gov.uk/online-applications/


Also see Old News
Air Your Views
Do you want to air your views? Try the Well Hill Electronic Message Board.
Are You Informed?
Did you know that the Shoreham Parish Council, Crockenhill Parish Council, Sevenoaks District Council and Kent County Council all issue newsletters and magazines to keep us informed? If you don't receive these publications, please let us know. After all, we pay our taxes just like those that do get these magazines.