Well Hill Residents' Association
This is the official web site of the Well Hill Residents' Association (WHRA).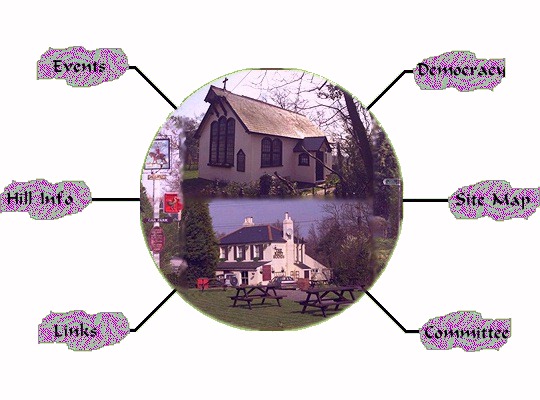 Results of the Questionnaire are available.
Membership of the Residents' Association was raised to £5 annually at the 2001 AGM.
Add yourself to our E-mail List.
Local 5 day weather forecast from the BBC
News
2015-08-07 Chris Gregory has passed away

It is with deep regret that we have to inform you that Chris Gregory passed away last Wednesday(22nd July). She had lung cancer. Her funeral is on 7 August at Eastbourne Crematorium. Chris was a long term resident of Well Hill and the WHRA committee before she moved away a few years ago. Our thoughts are with her family and friends.



2015-07-30 New Play Area at Lullingstone Park

The new play area at Lullingstone Country Park will be officially opening to the public on Thursday 30 July 2015 at 3.00pm; with the first 50 children receiving a free goody bag!

For more information see http://www.kent.gov.uk/leisure-and-community/parks-and-outdoor-activities/lullingstone-country-park



2015-07-18 Free Saturday Refuse Collection

Kent Hounds car park (by the Well Hill recycling area) from 11:15pm to 12:00pm. Get rid of those large rubbish items, when the dust-cart comes to Well Hill, without having to travel to the amenity dump. The dates are easy to remember - they are the third Saturday every three months (Jan, Apr, Jul ,Oct)

For more information see http://www.whra.org.uk/saturday_refuse_collection.htm



2015-07-11 Chelsfield Village Fair

Gates open at noon. Music until 6:30pm. The Fair opens for a little longer this year with the Force 10 Big Band rounding off the afternoon, taking over from the wonderful Croydon Steel Orchestra who open the Fair, and we are delighted to welcome back Eagle Heights for another birds of prey flying display. Our Fun Fair should be bigger and better this year so plenty for the kids, and those with little regard for their digestion to enjoy.



2015-07-08 Broadband Survey

Could you help improve the Broadband Service in Well Hill and the surrounding area? Please follow the link to http://www.whra.org.uk/survey.html and answer 10 or LESS questions. You do not need to identify yourself in this survey but we will need your postcode so that we know the approximate area of Well Hill that experiences the worst service. This short survey will only take a few minutes and will help us put pressure on those providers that need to improve their service.

For more information see http://www.whra.org.uk/survey.html


Also see Old News
Air Your Views
Do you want to air your views? Try the Well Hill Electronic Message Board.
Are You Informed?
Did you know that the Shoreham Parish Council, Crockenhill Parish Council, Sevenoaks District Council and Kent County Council all issue newsletters and magazines to keep us informed? If you don't receive these publications, please let us know. After all, we pay our taxes just like those that do get these magazines.