Well Hill Residents' Association
This is the official web site of the Well Hill Residents' Association (WHRA).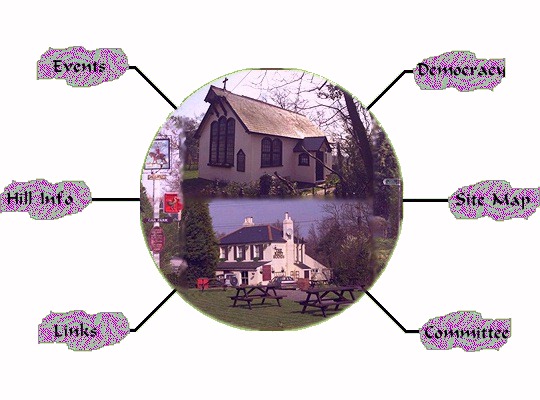 Results of the Questionnaire are available.
Membership of the Residents' Association was raised to £5 annually at the 2001 AGM.
Add yourself to our E-mail List.
Local 5 day weather forecast from the BBC
News
2015-04-17 Meet your next MP

2015 HUSTINGS (Sevenoaks Constituency) St Peter's Church, College Road, Hextable, BR8 7RH. Friday 17 April 2015 7:00pm for 7:30pm start. Come and meet your local candidates. St Peter's Church Hextable is hosting a Political Husting meeting of five of the Sevenoaks candidates in the General Election for this Parliamentary Constituency at 7pm on Friday 17th April. This is being arranged by the Churches Together in Swanley and District. The programme and timings are:- Arrival from 7PM for refreshments and an opportunity to hand in your written questions on both National and Local issues. The debate will commence promptly at 7.30PM with each candidate invited to introduce themselves. The Chair will then introduce questions on National issues with a mid-evening break at 8.45PM to receive any further written questions. The evening will then recommence with questions on Local issues and finish by 10PM. Do tell your local friends and neighbours about this open evening for our community. Meeting is expected to finish around 10.15pm.

For more information see http://www.whra.org.uk/archives/2015_Hustings_programme_and_questions.pdf



2015-04-15 AGM

The Well Hill Residents' Association AGM will be held at The Mission Church from 7:30pm. Guest speakers include local PCSO, councillors and political representatives.



2015-04-09 Pirate Radio knocks out Broadband

The 2 hour broadband outage today was caused by a Pirate Radio station tapping into the power supply for the Well Hill mast. If you saw anything suspicious this morning contact the police.



2015-04-04 Lullingstone Castle's Easter Egg Hunt

Enjoy fun for all the family this Easter at Lullingstone Castle and The World Garden with our Easter Egg Hunt held on Easter Saturday 4th April until Easter Monday 6th April; 12 noon until 5pm. Aspiring plant hunters will be able to scour the World Garden, searching through the different continents for Easter trail clues and then report on their discoveries to claim their Easter egg surprise. Experience all the floral delights of spring in the World Garden containing some 8,000 plant species, cultivars and hybrids planted in their respective countries of origin. Children also have the chance to meet the Easter characters including the famous "Cockerel" and some new friends for 2015 who will be on hand to help you navigate your way through the garden and grounds.Tickets are £.

For more information see http://www.lullingstonecastle.co.uk/component/content/article/275



2015-03-25 M25 Inspectors Report

See the following link for an extract of the Inspector's report about lighting on the M25. The report is from before the M25 route was decided upon.

For more information see http://www.whra.org.uk/archives/m25-dandag.htm



2015-03-22 Property Damage in Parkgate Road

Between 4:30pm on Sunday 22nd of March and 6:00am on Monday 23rd of March. At a premises a gate was damaged. If you saw anything suspicious, contact Kent Police on 101.


Also see Old News
Air Your Views
Do you want to air your views? Try the Well Hill Electronic Message Board.
Are You Informed?
Did you know that the Shoreham Parish Council, Crockenhill Parish Council, Sevenoaks District Council and Kent County Council all issue newsletters and magazines to keep us informed? If you don't receive these publications, please let us know. After all, we pay our taxes just like those that do get these magazines.