Well Hill Residents' Association
This is the official web site of the Well Hill Residents' Association (WHRA).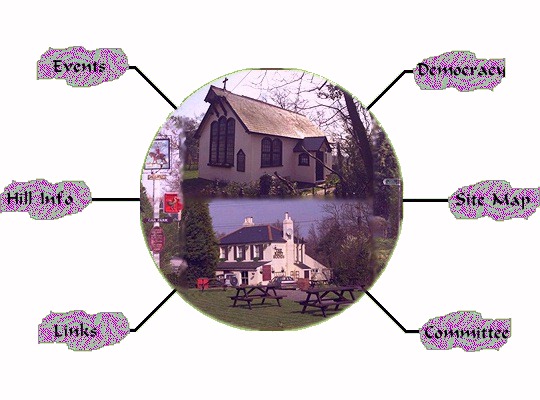 Results of the Questionnaire are available.
Membership of the Residents' Association was raised to £5 annually at the 2001 AGM.
Add yourself to our E-mail List.
Local 5 day weather forecast from the BBC
News
2014-01-18 Free Saturday Refuse Collection

Kent Hounds car park (by the Well Hill recycling area) from 11:15pm to 12:00pm. Get rid of those large rubbish items, when the dust-cart comes to Well Hill, without having to travel to the amenity dump. The dates are easy to remember - they are the third Saturday every three months (Jan, Apr, Jul ,Oct)

For more information see http://www.whra.org.uk/saturday_refuse_collection.htm



2013-12-19 Christmas Social- Chelsfield Village Hall 8pm

Thursday 19th December Chelsfield Village Hall Village Christmas Social Bring some food and drink to share. Starts at 8.00pm



2013-12-19 Christmas Carols - Five Bells 8:15pm

Thursday 19th December Five Bells Phil's Carol Bash Come and be part of this Great Ding Dong! This year might have help from Julius and Cynthia Starts 8.15pm



2013-12-18 Carol Service at the Well Hill Mission Church 7:45pm

Join other residents for the festive Carol Service in our very own Mission Church. It starts at 7:45pm with mince pies and drinks later. Suitable for all ages and children are especially welcome - even babes in arms.

For more information see http://maps.google.co.uk/maps?q=http:%2F%2Fwww.achurchnearyou.com%2Fkml%2Fparish%2Fparish_310048.kml&hl=en&ll=51.356829,0.150107&spn=0.004073,0.011362&t=m&vpsrc=0&z=17&iwloc=lyrftr:kml:cj2p4-oZNUYMnv0QiI2UuyMlImUtRkF9AYCQ,ge807edb8620cba59,,



2013-12-07 Christmas Sale- Chelsfield Village Hall

Saturday 7th December Chelsfield Village Hall Christmas Sale This is not a boot sale but an opportunity for residents to sell their products and crafts locally. In aid of the kitchen fund 10am to 12.30pm. To book a table costs £6.00. Contact Anne 01689 826349



2013-11-25 Last day to comment on the Traveller Site Planning Appeal

The planning application for a Traveller site by Fountain Farm on Firmiingers (Rock Hill end) was refused and an appeal was lodged against that refusal. Comments can be made online by following the link to http://www.pcs.planningportal.gov.uk/pcsportal/ViewCase.asp?caseid=2206402&coid=98880 and must be lodged before 25th November.

For more information see http://www.pcs.planningportal.gov.uk/pcsportal/ViewCase.asp?caseid=2206402&coid=98880



2013-11-12 General Meeting about Planning Appeal for a Traveller site in Well Hill

There will be a General Meeting in the Mission Church on Tuesday 12th November at 7.30 p.m. to discuss the Appeal for planning permission on the Travellers Site at Fountain Farm, Firmingers

For more information see http://pa.sevenoaks.gov.uk/online-applications/applicationDetails.do?activeTab=summary&keyVal=MMGWTNBK8V000



2013-11-09 Sevenoaks Fireworks with Free Parking

Saturday 9th November Free parking for Sevenoaks fireworks Sevenoaks District Council and Sencio Community Leisure are offering free parking in Sevenoaks town this Saturday evening (9 November 2013) to give residents even more reason to come along to the Sevenoaks Charity Fireworks. Residents can park for free in all Sevenoaks District Council car parks and on-street parking from 4.30pm, as well as the Sevenoaks leisure centre car park. A funfair and stalls will open along the high street from 5pm and the fireworks display starts at 8pm. Organised by Sevenoaks Round Table, this annual event has been stepped up a notch this year, with all proceeds going to local good causes. Residents should remember that although parking will be free of charge all other parking restrictions will continue to be enforced. Those looking to attend should book tickets in advance though www.sevenoaksfireworks.co.uk, where more information is also available.

For more information see http://www.sevenoaksfireworks.co.uk


Also see Old News
Air Your Views
Do you want to air your views? Try the Well Hill Electronic Message Board.
Are You Informed?
Did you know that the Shoreham Parish Council, Crockenhill Parish Council, Sevenoaks District Council and Kent County Council all issue newsletters and magazines to keep us informed? If you don't receive these publications, please let us know. After all, we pay our taxes just like those that do get these magazines.